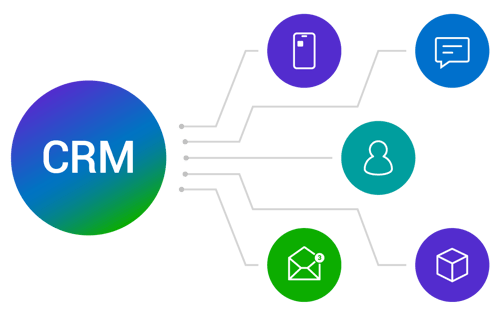 CRMs allow business the ability to track a customer's sales history and monitor your sales efforts from a single dashboard that is designed for increasing efficiency of your sales department. However, as the market continues to grow, a modern CRM system needs much more than a client and sales preview.

A modern CRM system requires updated features that allow your sales reps to increase efficiency and allow a deeper look into consumer behavior for greater profitability.
So, what constitutes a modern CRM? Here are the top 5 features that a good CRM should have in 2021:
Download the CRM Comparison Guide
A Native Mobile App
Your sales reps are always on the move, and your CRM system should enable them to be productive at all times. Many sales reps have to open their CRM on clunky mobile-browsers, which not only slows things down, but may also leads to errors when recording important data. Going into 2021, a Native CRM mobile app is a necessity rather than a luxury that allows salespersons to be productive, and more effective.
Native Mobile Applications are built according to the mobile device, meaning they load faster and offer a smooth user experience compared to responsive websites. Native Mobile Apps also allow users to receive push notifications and other integrations that are not available on mobile browsers.
Integrated Text Messaging And Outbound/Inbound Calling
Time is money, especially when you are in sales. The ability to dial Calls or send Text Messages directly from the CRM application itself allows salespeople to work more efficiently and have their activity logged automatically.
Integrated Calling and Texting has proven to be one of the biggest factors in getting sales teams to use a CRM system.
Customer Insights
As organizations continue to target consumers based on their interests and likes, you can use smart insights to get to know the lead more personally, increasing your chances of success. It is for this reason that modern CRM systems must include social media integration as part of the complete package. This allows businesses to act quickly and respond to customers and leads faster by analyzing how they behave on social media and what their preferences are.
People spend an average of two hours per day on social media, providing a rich ground of information about how they, the consumer, view your brand and what the conversation is regarding it.
Inventory Integration
Organizations are used to handling inventory management and CRM software as two separate systems. While inventory management systems are meant to handle information relating to accounting and sales history, CRM systems are meant to record customer interaction, messages and other aspects that relate to relationship management.
Integrating your inventory management with the CRM can allow your business to benefit from increased productivity, and efficient data management.
As organizations continue to leverage data for success, integrating your CRM system with your inventory management will allow salespersons to have a more complete view of the lead or customer.
This integration will actually combine many workflow processes into one, which will allow you to automate and increase productivity.
Email Open Notifications
The absolute best time to call a customer is when they open your email. Modern CRM systems like Hubspot and CallersIQ have Email Open Notification features that let you know as soon as a lead opens your email. This feature takes the guesswork out of email communications. As soon as a lead opens an email you sent them, you will receive a push notification to your phone.
--CRM systems should be loaded with modern and functional features that help boost your business operations. Is your CRM working for you?