Automated Chat Service is exactly what it sounds like. It takes the representative out of the Live Chat experience and replaces it with an automated response program. Using an Automated Chat Service takes the human element out of the experience. These programs respond only to the capacity of the data that is imputed. Often times, a person will have a question that is beyond that data and therefore is not answered correctly, damaging the users experience on the site. The following was a conversation held with an Automated Chat Representative.

Try Live Chat free for 30 days.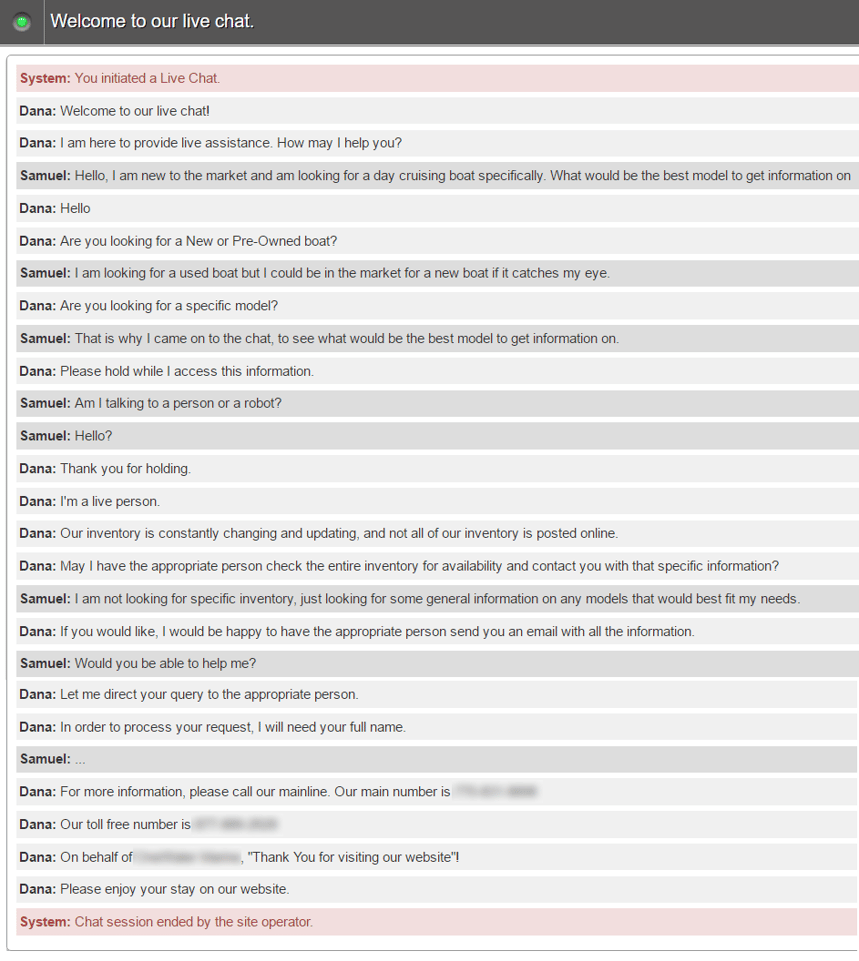 Note how the Automated Chat Representative from this boat dealership cannot answer a simple question and is unable to direct the user to a specific model. Instead it puts the customer on hold and then explains how their inventory is always changing, which has nothing to do with the original question. Automated Chat Services have many difficulties when dealing with specifics, and as illustrated above, does not offer the benefits of a fluid conversation. A knowledgeable Live Chat Representative familiar with the product line could have easily and quickly advised the user is in the right direction, increasing their chances of becoming a customer of that dealership.
This example shows where an Automated Chat Service can fall short and ultimately hurt the potential of a site visitor becoming a customer. A Chat service should only boost user experience and truly help those who have questions when visiting your site.
Read more about the benefits of a Live Chat Service.