Sometimes we get so caught up in the "do" factor of customer support, that the numbers and statistics become the most important factor. In the same way our customers then turn into people whose feelings and responses are no longer valid. This can be a slippery slope that leaves you and your team wondering why your efforts are generating adverse effects. Rather than having only a rigid protocol for your customer service techs to adhere to, allow some flexibility that is geared towards understanding and caring for the customer's needs. Empathy is key. When communication is positive and truly supportive, there are better odds of receiving positive customer reviews. As we now know, positive reviews lead to consumer confidence in working with your dealership, increased traffic, and ultimately more revenue.
Studies have been done to compare the speediest of support teams to those who are more empathetic to customer needs. One such study, of customers ranking the preference of their bank tellers, found that while speedy support is considered 6 times more important than base support, empathetic support is even more desired at 9 times more important. Being quick helps your customers get back to their lives faster and your business to move through customer requests rapidly. However, part of doing so efficiently is to always ensure that your customers are treated like living, feeling people. In this way we return to the fact that customers tend to remain loyal to businesses who treat them with respect and understanding.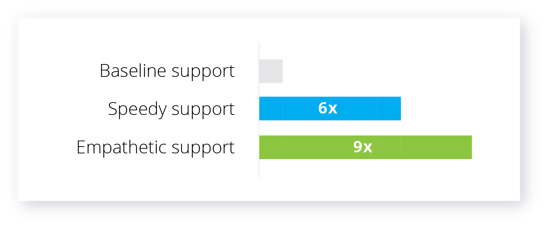 Customer service should be treated as a human experience.
Another study asked 9,000 people what their preference was in customer support from the companies they do the most business with. They were given the choices of human service, number of channels, rich content, web assistance, social communities and other to choose from in the questioning. Of all those choices 40% of the survey pulled the response that human service is the most important aspect of customer support.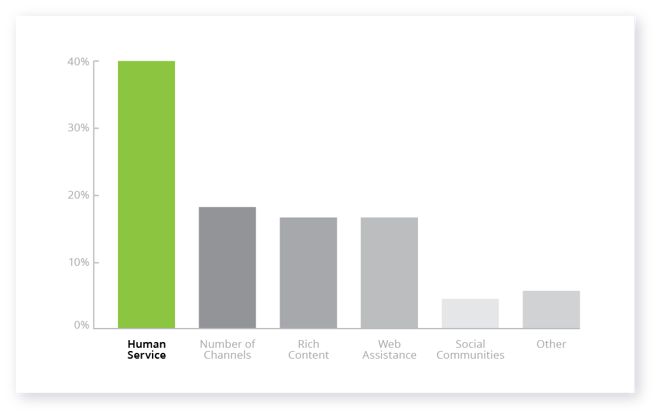 An example that we can draw from is the differences in customer experience between an Automated Chat and a Live Chat interaction. More about that here.
I think most of us would agree that we prefer to be treated like people, by people. So, if you haven't already, put a little heart into your customer support. It will do wonders for your business.
Other sources: www.groovehq.com/support/customer-support-statistics